Now you have decided to remodel your kitchen or at least make some small changes, we have an amazing list of kitchen remodeling ideas for you. Even small makeovers may change the look of your kitchen immensely.
Let's clear out one thing right at the beginning: whether you live with a family or by yourself, the kitchen is the busiest space in a house. From the coffee you whip up to get out of that agonizingly-wonderful slumber every morning to the last glass of water you sip every night, the kitchen remains at the center of your home. It is perfectly understandable as to why just like life, kitchen design also needs a breath of fresh air, or simply, a coat of fresh paint.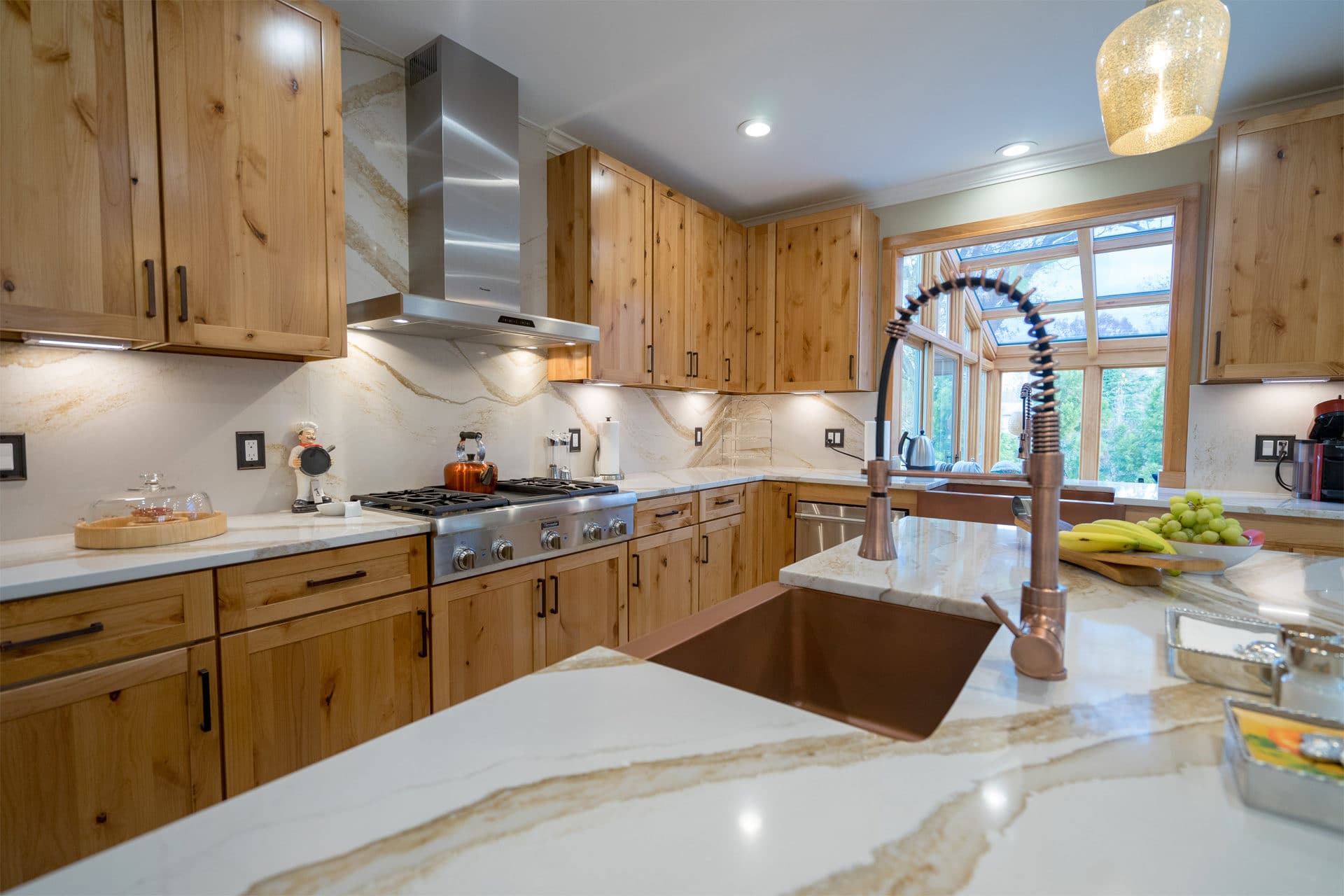 But of course, a kitchen makeover is much more than that. Not only does it seek to reinvigorate the space most dear to the house, but it also will go a long way in ensuring that a fresh, updated kitchen remains at the heart of a healthy family. Let us understand what exactly you need to change and how you can manage a complete kitchen makeover. Wondering how much will your kitchen remodel cost? Check out our complete guide to budgeting your kitchen renovation.
Updating Kitchen Backsplash
Updating your kitchen backsplash is one of the easiest and most cost-effective ways to give a new look to your old kitchen. It is also the first area that should get your attention when renovating your kitchen because a) no renovation is complete without a new Backsplash and b) it is the most used/abused area of the kitchen. From spilled food to hot oil splashes, the backsplash takes it all and complains little.
If you're looking for some creative ideas to spice up your kitchen backsplash, consider checking out this post about backlash ideas for the kitchen. This resource can provide inspiration and guidance on how to add a unique and stylish touch to your kitchen space.
When updating your kitchen backsplash, consider whether you want to incorporate new changes to the material or re-do the existing design. If you are short on time and money, consider a simple coat of paint. This way, you can incorporate a variety of styles depending on your existing material or simply add a shade. If you are artistically inclined, use a stencil to create a design in a secondary accent color. Different kitchen backsplash ideas might be enough if you can't afford a complete renovation.
If you are just adding one color, consider choosing between different textures like matte, satin, and high-gloss styles to give a new life to your kitchen. But if you think that your kitchen backsplash needs more than just color, start by selecting the material you wish to use for the new kitchen project.
While the material you chose will, of course, depend on your personal needs, preferences, and budget, you can always save costs by doing it yourself instead of hiring a professional. The Internet has many videos on going the DIY route but remembers, do it only if you have prior experience in knocking down existing design and relating a new design. DIY is good only for people who know their stuff; for others, it can turn out to be extremely time-consuming and worse, a half-baked project.
Choosing New Cabinets for Your Remodel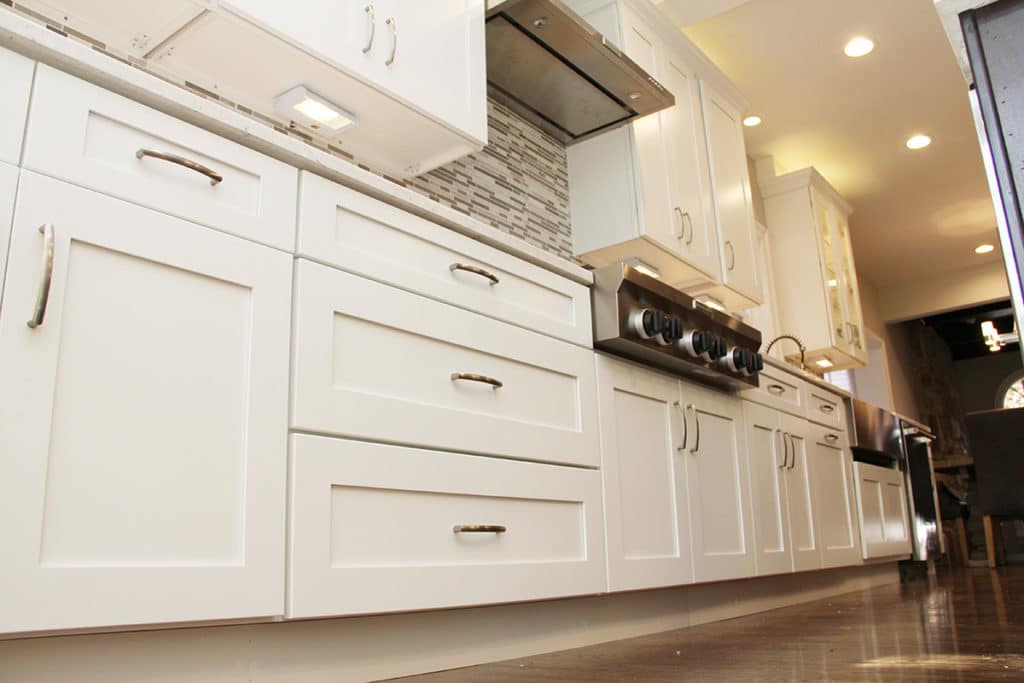 If you believe that a kitchen renovation should focus most on a) the look and b) the feel of new products, then choosing new cabinets is one of the best ways to go about it. Kitchen cabinets take a lot of abuse on a daily basis and are often seen to be loose on their hinges which gives the whole kitchen a dated and ignored look. Also, remember that when it comes to the cabinet, the choices are plenty even if you are on a tight budget and have the basic tooling expertise (in short, tighten screws properly!).
Ready-to-assemble (RTA) kitchen cabinets come in a flat pack along with all the hardware needed for assembly. One of the biggest advantages of the RTA kitchen idea is that it saves you a substantial cost on labor charges thereby allowing you extra room to spend on quality products. At the bottom of the price list is medium-density fiberboard (MDF). Also known as engineered wood, substrate, hardboard, etc., they are all made by pressing wood particles together at high temperatures with glue. While being an affordable option, its durability is often compromised.
On the other end of the scale are solid wood drawers with dovetail joinery that look good and last long. In short, cabinets with white melamine-coated particle board cabinet boxes and drawers and flat panel doors are signs of cheap quality while veneered plywood, hardwood frames, and solid wood doors are of expensive, durable quality.
Focus on New Flooring
Relaying the kitchen floor is both a time- and money-consuming process but few things give a new life to kitchen renovation like a new floor.
When it comes to basement ideas, hardwood is the most well-known standard and material. Within hardwood, however, there are a lot of variations and differences. The most common form of hardwood flooring came in thick planks of solid timber. Solid hardwood is milled from a single piece of wood and hence a completely natural material. It is more adept at handling temperature and humidity changes.
Many companies also offer engineered flooring –planks with a thin layer of hardwood on top, bonded with other layers. Engineered flooring is designed to prevent the floor from shifting during expansion and contraction cycles.
Oak and walnut are two of the most common hardwood choices and for good reason. Oak is durable and stains well while giving an appealing natural grain and is reasonably priced. Hickory, maple, ash, and cherry are also good choices too so take your time and decide accordingly. If you prefer a light-colored hardwood floor, ash is an ideal option, while people who expect a lot of foot traffic should consider hickory as an option.
Add a Kitchen Island and Open up Your Space
No matter how small or large, a kitchen island occupies a focal point in your kitchen and hence, is often the most focused item when it comes to a kitchen renovation. Natural stones like granite and marble along with engineered Quartz are some of the most commonly used materials due to the variety they offer without compromising on durability.
But remember that you don't want a very big island that looks out of place. For foot traffic, leave about 36 to 48 inches of space on all sides. The size and the nature of the kitchen island are often dictated by what purpose it will serve.
For example, if you plan to serve snacks or use this space for wine sessions, leave proper legroom and surface area for each person. About 24 inches of width might be enough for each person. Consider leaving 9 to 13 inches of clearance between your knees and the bottom of the counter for the necessary legroom. While designing, match the counter height with the seating you use. Customizing your island can make it more user-friendly and diverse without adding costs, For example, if your kitchen island also doubles as a workspace, consider adding electrical outlets to make sure people can charge their phones or plug in a speaker. There are a number of kitchen island ideas that can get you moving.
While overhauling your kitchen, you might be working with a great designer. But it doesn't always mean that they will have all the kitchen renovation ideas. It is always smart to check out kitchen remodel ideas for inspiration as well as to reduce the cost of kitchen remodeling.
Indulge in New Luxe Appliances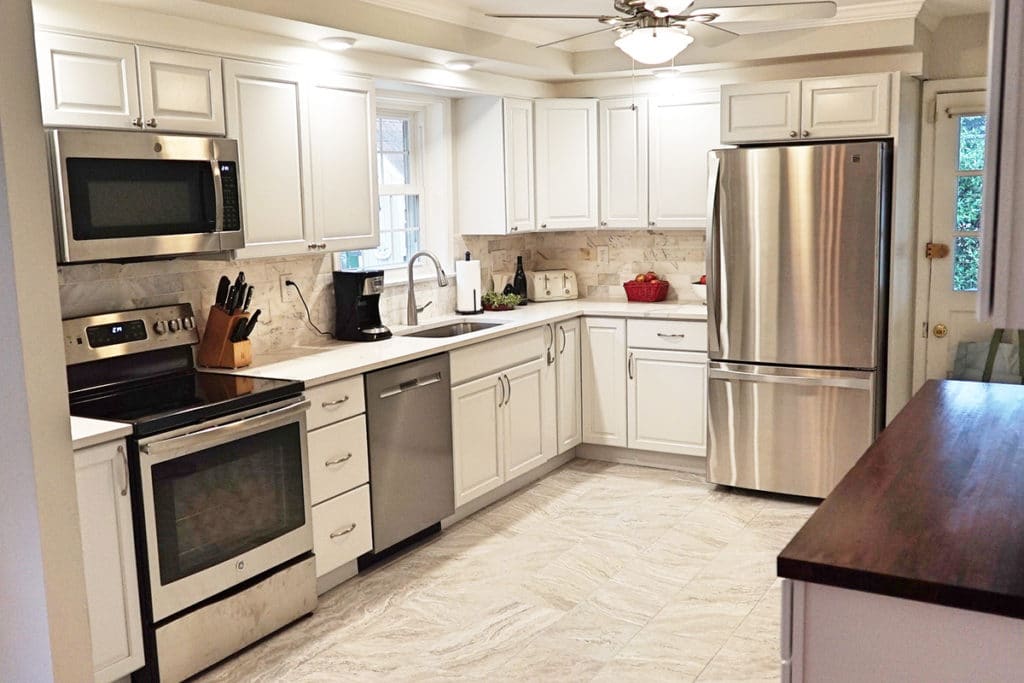 Appliances are the most important aspect of a kitchen: they are the instruments that get things done. However, aging appliances can drain your pocket and reduce efficiency so it is always a good choice to update them every few years but of course, this does not apply to all appliances in the kitchen.
In general, remember the latest appliances are not only more efficient, but they are also more 'beautiful' to look at. That said, do not prioritize form over function. Remember, appliances are long-term investments. If you are planning to sell the property, check with local property agents to confirm whether investing in new appliances will fetch you a higher price for the property. Of course, if you plan to continue staying at the house, then the investments made in appliances will improve the kitchen's efficiency and performance.
Over time, kitchen interiors may start seeming a bit dull and the overall appeal might just be lost. This is why you must indulge yourself in new luxe appliances for not just the novelty in aesthetics but also the general utility of the space.
Besides giving your kitchen a new look, these appliances are bound to give you the 'hands-on' change you deserve. You might find the memories of the old kitchen coming back if you stick with old electronics. Not only have the new-age appliances changed in how they can be used, but they have also changed in the way they look too. In order to thoroughly enjoy your finished kitchen remodeling, ditch that 25-year-old refrigerator and opt for a stylish sleek one that matches the decor and theme of your kitchen.
Try Open Shelving
Gone are the days when the sight of your cutlery in the open would invite a frown from the visiting guests — in fact, more and more people are opening up to the idea of open shelving. If you are looking to contrast your new kitchen from the old one (or your grandma's) and add a sense of 'largeness' to your space, you should definitely try open shelving.
The best part about it is that there are so many ways to play around with it and be creative. You could go for white open shelving to highlight the wallpaper or the paint or you could even mix and match it with the cabinetry. No need to get rid of cabinetry entirely — just add shelves between windows or in the corners of the kitchen to display your most prized cookbooks, pottery, or teacups. Customize it with hooks to hang stuff or opt for fancy boxes and baskets to add a touch of sophistication. Under cabinetry, lights are highly recommended for kitchens looking to add a bit of X-factor. We suggest opting for only one color of glassware to display on these open shelves for the best effect. There are a lot of kitchen open shelves ideas that can overhaul the look of your kitchen as well as add astonishing functionality.
Embrace Contrast – Honed Granite Countertops Against White Oak Cabinets
If you are looking for kitchen remodeling ideas, you can't miss the most sophisticated trend of all of this decade: solid countertops with contrasting cabinetry. For a contemporary kitchen, you should consider going the granite way and opt for the honed finish instead of the regular polished one.
The matte finish of this durable stone adds an ultra-modern touch to the kitchen without excessive reflections. In a way, it makes it less susceptible to smudging too. Besides the evergreen black, brown, and beige, the finish also allows you to opt for exotic red and blue colors should you want to add a bit of color to your kitchen. Contrast the seams and colors of the slab with the plainness of white oak cabinets to add an unrivaled touch of class. You can't go wrong with a pop of color set to a plain white setting. As oak is equally gracious when paired with granite and relatively less prone to water damage than MDFs, the pairing is bound to be a hit. The number of kitchen countertop ideas is as many as the types of countertops, be it natural stones like granite and marble (wondering the difference between granite and marble?) or other engineered stones like quartz.
Stick to One Splurge – New Marble Countertops
One of the most exquisite natural stones known to mankind, marble is a godsend for those looking to take a detour from the boldness of granite countertops. Aesthetically pleasing and available in countless varieties, there is a reason marble has so much significance even historically. If you are going for sophistication, meet your best friend: marble countertops.
The feminine feel of marble allows one to use it in every kitchen regardless of the theme. Although there are some concerns about staining, it is a known fact that a lot of homeowners prefer the way the surface ages as the colors blend into its grey veins. Concerns can be minimized with a polished finish, although we love the idea of a honed finish in a modern kitchen. The best part is undoubtedly the cost-effectiveness though. If you are on a budget and still want something that embodies class, marble is definitely what you are looking for.
Be Creative with New Lighting
One of the most brilliant ways to combine convenience with beauty for kitchen remodels is to be creative (and smart!) with your kitchen lights. It is one of the most cost-effective tricks when it comes to kitchen remodeling ideas. The desired effect can be achieved by mixing and matching different fixtures in different spots in the kitchen. Depending on whether you are looking for ambient lighting or task lighting, you could plan the layout and the budget. There are countless kitchen lighting ideas.
To combine task lights with cost-friendliness, we suggest going the LED ceiling lights route. Besides being eco-friendly, these lights save a lot of dollars on electricity bills. You can bring out the wow factor with these lights too if you go for pendant lights above your kitchen island or dining area. For ambient use, chandeliers or even new-age track lighting can be used. Make sure to install dimmers if you plan to spend some time eating dinners with your loved one in the dining area. Basically, whatever your budget or use: If you are looking to take your kitchen to the next level, it's time to hang some new lights!
Picking New Cabinet Doors
Revitalizing and renovating a kitchen can be a tricky affair: not only do you have to decide what you must change, but you must also decide where to best spend your money. And dollar for dollar, new cabinet doors are one of the best investments. The reasons are simple: every day, your cabinet doors are opened a number of times and over a period, they suffer wear and tear. Even if the doors may not 'look' old, the hinges, for example, tend to get loose.
The one important reason why you should choose new cabinet doors is that if you want to keep your costs low, you can always consider buying ready-to-use doors which are available in various colors, materials, and textures. For ease of usage and low maintenance, you can always consider plywood/MDF. However, if you can afford to spend a little more, proper wood like dark cherry wood cabinets would be a lovely option. If you are feeling eccentric and eclectic at the same time (well done, you!) then you can even consider getting rid of cabinet doors completely and instead opt for an open shelf design. That choice, however, will require you to get new cabinets that are more suited to open-frame designs.
Paint Update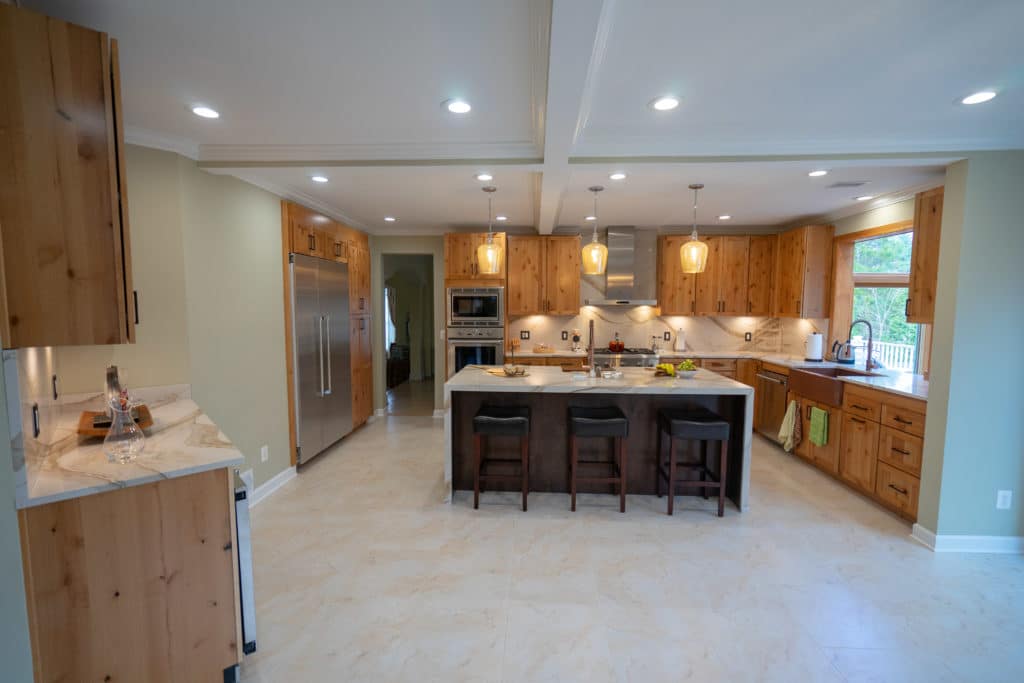 A new touch of paint, updating hardware (doorknobs, cabinet pullouts), and a couple of new appliances are the easiest way to do so. Kitchen paint ideas can guide you to update your kitchen in an extremely cost-effective way.
While we pay a lot of attention to the paint we use in the house, the kitchen often tends to get ignored. Also, while the rest of the house may not need a repaint anytime soon, the walls of the kitchen undergo a lot of abuse. Smoke, water, oil, and the general traffic in the kitchen can begin to reflect on its walls very soon. When painting a kitchen, remember that you should give attention to how the new color will gel with the rest of the house and whether the texture you pick will withstand oil and heat. Unless you wish to get an extremely fine and detailed painting done to the house, going DIY will make it even more affordable and a great way to get your family and friends involved. This also ensures that you have complete control over the designs so get creative!
When it comes to the colors it makes sense to spend some time picking the right color. Choose colors that create a high visual impact and are in line with the food. Then, there is the texture: satin and semi-gloss are some of the best options when it comes to the finish because they can be shiny/glossy enough to clean up, yet flat in its appearance to hide imperfections.
New Hardware Can Revitalize a New Kitchen
While new paint will revitalize your kitchen, this will also be a good time to consider changing your hardware in the kitchen. While cabinets can last a really long time, the same cannot be said about kitchen hardware. As a general rule, metal works best for hardware for the simple reason that it is, well, metal. It is durable, sturdy, and resistant to minor bumps and knocks. Within metal, however, you have a lot of choices: nickel and brass have a timeless appeal while steel is sleeker and more contemporary.
Silver is also a great choice but may not be the best idea if your kitchen has a lot of rough usage (think oily hands!) or if you wish to keep costs down. And should you go for knobs or handles? Again, you can choose one or both to give a slightly edgier look to your kitchen. The point here essentially is that while changing cabinets can cost a lot and involves a lot of effort, the hardware is much easier to update and more affordable. And when the knobs look nice, even slightly old cabinets will look as good as new.
These kitchen remodeling ideas will definitely save you money while renovating your kitchen.